Oxinium Knee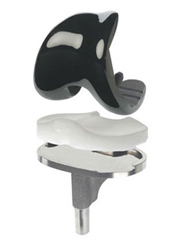 Oxinium, for Longer Lasting Knees
Oxinium implants are said to be long-lasting and cause a considerable reduction in the need for revision knee replacement surgery. Oxinium Overview
Developed by Smith & Nephew, which boasts of a rich history of innovation, Oxinium material is a revolutionary technology used in the production of components of knee and hip implants that exhibit superior performance characteristics due to its hardness, low-friction and resistance to roughening and abrasion. In combination with VERILAST technology polythylene, the implant has been proven to last 30 years and has been approved by the US FDA. What makes Oxinium special?
Its the fact that it is ideal for younger patients, it is scratch resistant and therefore wears less and lasts longer. It is truly a high performance material. The only material in the orthopaedic world to receive this award
Oxinium was awarded the prestigious 2005 ASM Intrnational Engineering Materials Achievement Award for Oxinium technology.
Advantages of Oxinium Knee
1. Oxinium is the best choice in knee replacement materials for such patients who exhibit metal allergies.
2. Oxinium contains no detectable nickel, the leading cause of negative reactions in patients with metal allergies.
3. Another major reason why Oxinium is so highly recommended is the fact that it is a scratch resistant material.
4. Due to Oxinium's superior hardness, smoothness and resistance to abrasion, surgeons can, now, recommend joint replacement to patients who are less than 65 years old. This wasn't possible with traditional materials such as Cobalt Chrome, as the life of the implant was limited and the patient had to undergo revision replacement surgery in a span of 10-15 years.